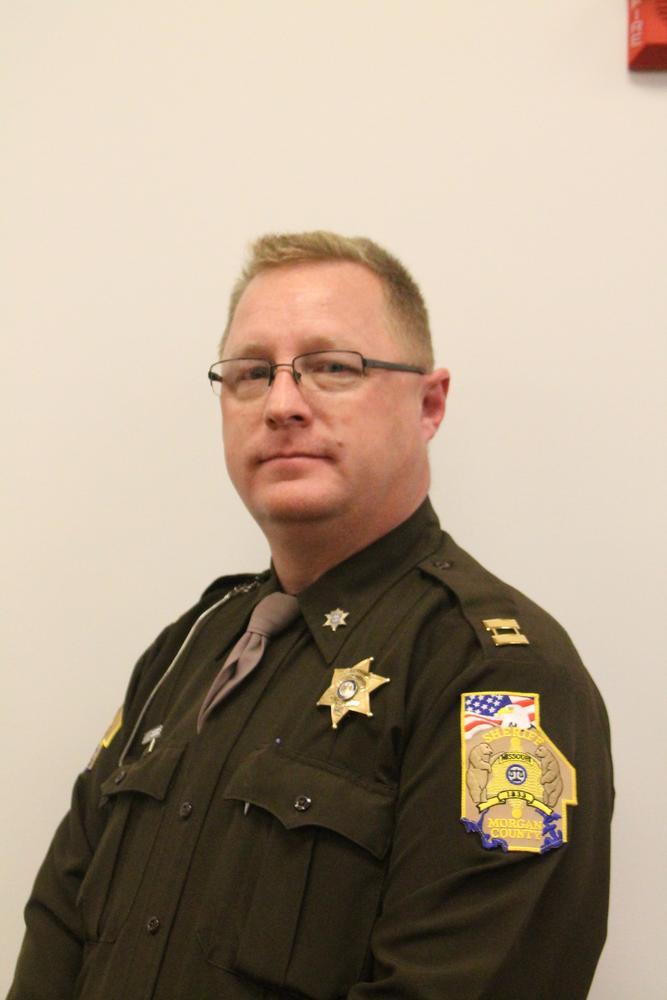 Captain Cody Worthley #293
Jail Administrator
***Effective immediately the Morgan County Adult Detention Center will be suspending all non-essential entry into the facility due to the Cornavirus. To ensure the safety of the detainee population and staff these measures will be in place for 30 days and may be extended depending on guidance from the CDC and the Morgan County Health Office. This will suspend visitation on Sundays and Clergy visits on Tuesdays. All questions can be directed to a jail supervisor or by calling the jail administrator at 573-378-5481 ext. 1250. The MCADC will take all necessary precautions to ensure staff and detainee's safety is of an utmost priority.

Mail:

All incoming and outgoing mail is searched for contraband.

The following format will be needed for sending mail

Return address: Full Name and address

Inmate: Name (Booking Number)

211 East Newton Street Suite 2

Versailles, Missouri 65084

Click here for mail policy.

No over the counter medication can be brought in, they can be ordered off commissary.

Current prescription medications may be brought in as long as they are in their original container for medication verification by the jails contract physician.

Money can be brought in to lobby and use the kiosk or can call (866)345-1884 or log into website https://www.accesscorrections.com/

Money orders or checks will not be accepted.

Visitation: (NO CONTACT VISITS)

Sunday: 8:00 a.m. to 6:00 p.m.

30 minute visits

Detainee's are allowed to have 1 visit per visitation day with no more then 3 visitors at a time,

You must present a valid picture I.D.
Inmate

phones

:
Inmates are allowed to purchase inmate phone cards.

Persons wishing to receive collect calls must contact Encartele at 1-800-562-7062.
Incarceration Board Bills
*Should be paid through the Morgan County Sheriff's Office.
*Be aware, we DO NOT have a credit card system in place.
*Cash, Check, or Money Order only. Please, put Case Number in the memo to assure credit is given for that specific case.
SEXUAL ABUSE AND ASSAULT PREVENTION AND INTERVENTION
P.R.E.A.
Morgan County has a zero-tolerance policy on sexual abuse and assault
Detainees feeling unsafe because of threats of sexual abuse or assault, or who has been a victim of sexual abuse or assault should immediately advise the control tower, by intercom, or a staff member directly. Information concerning the identity of detainee victims reporting a sexual assault, and the facts of the report itself, shall be limited to those with a need to know in order to make decisions concerning the detainee-victim's welfare, and for law-enforcement/investigative purposes. There are several ways detainees can report abuse and protect themselves from becoming a victim. Detainees feeling at risk of being abused may do one, or all, of the following: Contact a staff member or the on-shift supervisor;
File an emergency grievance stating the nature of the problem(s) and your immediate needs. Staff members can guide you on the process of filing an emergency grievance; Contact ICE directly through use of an ICE Detainee Request Form. This form will be forwarded to ICE by a staff member;
File a complaint directly by calling 1-800-323-8603 or writing to DHS OIG HOTLINE, 245 Murray Drive, SE, Building 410, Washington, D.C., 20538;
Notify a relative of friend who can notify ICE or the Office of the Inspector General directly on your behalf;
Detainees sexually abused or assaulted will be afforded the appropriate medical care and/or victim counseling arranged by this facility's staff.
Emergency outside agency: Jefferson City Rape and Abuse Crisis Service. PO Box 416 Jefferson City, MO 65102 Hotline (800)303-0013, (573)634-4911
The Morgan County Victims Advocate Mrs. Roberson may also be contacted to report sexual abuse by either families, anonymously, third party, or by the individual by calling or by requesting to speak in person. Phone number is (573)378-4694 ext 1256.
Anonymous, third party, and direct reporting can also be done by contacting the P.R.E.A. coordinator Sgt. Kyle Van Vleck in person, by phone 573-378-5481 ext 1230, or email preacoordinator@morgan-county.org.